Mega x100
server
opened its doors three weeks ago, and if you missed the opening, now is the perfect time to start playing and enter the
Hall of Fame
!
This time easy start will be divided into three stages, today the first stage starts - all new characters upon creation now receive a +25% experience buff for 7 days and 500 additional stat points.

New server Bless Mega x100 is now open! Welcome and have fun!
Update:
The updated system of random quests has been launched. Now, when you complete any task, you have a chance to get additional stats that are saved during resets. The higher the difficulty of the task, the greater the chance of obtaining stats and their amount.
Added the ability to skip the current task once a day using the
/skipquest
command if you didn't like the quest that you got.
There are now new tasks in Devil Square. Added Blue Ribbon Box and Creation Bundle as top prizes. You can read more about the random quest system
here
.
Players now have the ability to send each other letters through the website. In order to send a letter, click on the envelope in the information about the character. Only characters with 3 achievement points or higher can send letters. The cost of each letter is 1 Cash Point.
On the website, the character information now also displays the contents of the inventory. It will now be easier to find lost items on storage characters.

New bosses in Swamp of Peace: Gloomseeker 2x, Chaosbrute 2x, Spinarak 2x. Random respawn around 5 hours and drop Violet Mistery Box.
New bosses in Bless Arena: Hammerhead, Sword Master, Demonic Priest, Queen of the Damned and Elite Demon Rider. The characteristics of all the monsters in the game can be found
here
.
The amount of possible options when creating second level wings has been increased to 5. The chances of getting 2 or more options have also been increased.
Lorencia Fortress and Kanturu Arena no longer have penalties for player kills, this will help avoid random Phono status.
Castle owners can no longer use the /summon command on phonomans, the teleport cost is now 5kk Zen.
Changed PvP option for Elven Wands to True Damage Absorb PvP +200.
Increased damage at the maximum accumulation of the Nova skill, now the final damage is 70 times higher than the base.
Reduced the effectiveness of the Elven damage buff for Dark Lords by 5%.
For gladiators, the amount of HP and damage that this class receives from unallocated stat points has been increased (relevant for the Extreme server). Changed character formulas can be found
here
.
In the craft system on the website, the resulting rings and pendants can now have from 0 to 7% HP Recovery. The cost of crafting Basilisk Swords has also been significantly increased.
New system that allows you to increase the characteristics of your character with the fruits is now fully operational. Each stat can be increased by 500. Stats obtained with fruits are saved upon reset or when resetting stats. When using fruit, you have a 75% chance that the selected stat will increase by 1-5 points and a 25% chance that the stat will decrease by the same amount. In the future, we should expect the appearance of new monsters, the killing of which will be similar to the eaten fruit.

As promised, at Bless we now always launch two new servers every year. The previous high-rate server without achievements buff was great fun for the summer-spring season. Now it's time for a classic medium rate with full functionality.
The main distinguishing feature of the server will be improved rewards for Castle Siege. Now, in addition to the winner of the castle, the second place will be determined - the guild with the most seconds on the active crown during the siege. Castle owners will receive 60% of the castle treasury, second place 40% of the treasury. In addition to the treasury, we assign a prize fund from the administration in the amount of
$5,000
. Each siege, until the prize pool is exhausted, the winner will receive
4000 bonuses
, the guild runner-up
2000 bonuses
.
Additional stats in the form of rewards will be added to the system of random quests. A total of 2000 additional stats can be earned for these quests. Also, some existing tasks will be adjusted, new tasks and prizes will appear. By the way, on the Deus server at the time of writing this post, players have already completed more than 38 thousand random quests.
Finally, players will be able to permanently increase their character's stats with fruits. Each characteristic can be increased by 500 statpoints.
We are preparing a system of personal messages that players would be able to exchange with each other on the website.
Continue to follow the news on the website in anticipation of the launch. We will try to please you with some more interesting updates. One of them has already taken effect - update the client and check the right click in Trade and Chaos Machine.
All referrals registered from today will already be valid on the new server. You can get your referral link in your personal account by logging into any of the existing servers. So, if your friends are not with us yet, then it's time to invite them to join you at the opening of our new server.

Participate in the giveaway and get a chance to win 300 bonuses on any of our projects! 10 winners will be chosen randomly on September 22nd! If the number of participants will exceed 100 then there will be 20 winners.
FACEBOOK
Get acquainted with the key features of our project
here
.
A complete list of the features of our game worlds is
here
.
A detailed guide to playing on our servers is
here
.
Detailed information about the server and the reset table can be found
here
.
Mega x100 server will open on September 15th at 18:00!

A new
Support
section has been added to the website.
This system will become our main prioritized section on solving individual issues. Now all the info about the game and website is gathered in one place. Segments will be added and updated when it is necessary.
To create a support ticket you need to have a registered account.
Forum will continue to function without any changes. Discord and social networks will mostly function as help for newbies, communication, and news.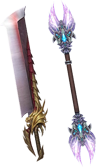 New items to create in the Chaos Machine added to the game, which, by analogy with the Dragonbone Blade, have their own unique options. When created, items retain all the extra options and upgrades of the original item, but there is a 30% chance that the item will lose 1 to 3 upgrade levels.
Imperial Bone Blade
- Doubles SD Recovery Speed ​​- if the character has PvP option SD Auto Recovery active, this sword when equipped accelerates regeneration of SD out of combat by half. The option is unique, the second equipped sword will not additionally speed up regeneration. Mix recipe: Exc. Bone Blade +15 + Wings of Conqueror + Jewel of Creation x30 + Jewel of Guardian x30 + Jewel of Chaos; cost 1.9 kkk Zen. As a result of the chaos combination, you will additionally receive one more item:
Imperial Dragon Shield
, which increases the maximum SD of a character by 9999. The shield will have the same number of options and upgrades as the original Bone Blade, including PvP options.
Celestial Staff
- Excellent Damage Rate +5% - Increases the chance of Excellent Damage damage. Mix recipe: Exc. Eternal Staff +15 + Wings of Heaven +15 + Jewel of Creation x30 + Jewel of Harmony x30 + Feather of Condor + Jewel Chaos; cost 1.9 kkk Zen.
All recipes and parameters of the new items can be explored in more detail in our
item library
.

New update is out! All players need to auto-update via Launcher. To get the auto-update, close the game, close the Launcher and start it again. If you have problems with an auto-update, you can manually download and install Patcher, it must be unpacked in the folder with the game client, replacing all the suggested files. During the update, all game windows should be closed.
The amount of VIP arenas has been increased to 10 - now there are twice as many free spots for leveling up! Bosses have moved to arenas 9 and 10.
For VIP account holders, 5 additional game vaults are now available, and the capacity of the virtual bank has been increased from 50 to 200 slots. We hope that players will finally no longer have to create additional characters to store their acquired goods.
In Atlans, respawn of Great Bahamut, Silver Valkyrie, Lizard King, and Siren decreased from 15 to 10 seconds on all servers.

This year, on June 30, the Extreme server turns 10 years old! This is 3652 days of continuous uptime without any wipes. Thanks to everyone who has stayed with us throughout this time. Dedicated to this event, we have planned several promotions and bonuses for the players. Also, on all servers throughout July, the treasury of the castle will be increased from 1% to 3%. For example, on the Deus server, the treasury this month exceeded 8,000 bonuses, so in July the prize pool may increase to 24,000 bonuses.
Update:
Congratulations to our best online ranking regulars. The most motivated player -MangusT- spent 54884 hours in the game - that's 6 years 3 months and one day, a really impressive result. All Top 10 players from the rating: -MangusT-, sieraDM, jeweler2, kotDL, PIKICA, -TheEagle-, -MAWINA-, -Hypnose-, Leeman and NoxY receive prizes from 5000 to 1000 bonuses.
The Guild Tribute system on Extreme has been updated similarly to other servers: you can choose to get a lottery ticket for 10 bonuses, a random box or Flame of Condor + 50 Grand Points.
Added new items to the Grand Shop: Night's Edge, Staff of Darkness, Flaming Phoenix Bow, Storm Breaker, Royal Scepter, Infernal Steel Shield, Spectral Barrier, Crystal Shroud and Royal Protector.
An easy start system for newbies on the Extreme server is enabled: all registered accounts get VIP access for 7 days, all created characters get +25% experience, Scroll of Defense +500, Elixir of Mana +6000 for mages and Tablet of Power (+400 Attack) for other classes for 7 days!
Also, a one-time discount for a VIP account has been added on the Extreme server - if you have never purchased a VIP, then at the first purchase it will cost you 300 bonuses instead of 500 for 30 days.
Update:
Added the service of adding a PvP option to the fifth wings on the Extreme server, the option itself is the same as on the third wings. In addition to bonuses, to add the option you will need 100 Jewels of Harmony, 10 Jewels of Guardian, 30 Jewels of Goldsmith, 3 Feathers of Condor and 3 Flames of Condor.
Update:
A new mix has been added to the Extreme server for creating the fifth wings, which allows you to use the third PvP wings instead of the fourth. The recipe looks like this: third PvP wings +15 + Violet Fenrir + Goldsmith x30 + Jewel of Guardian x30 + Jewel of Luck x10 + Jewel of Chaos. The mix is only available for PvP wings with Full options. The output is the fifth wings of the same class with Full options; there is also a 50% chance of losing enchant levels 1 to 4.
Phonomans killed in Bless Arena now spawn in Arkania upon death. Also fixed a bug with teleports after death in Bless Arena.

Deus x1000
server
opened its doors two months ago, and if you missed the opening, now is the perfect time to start playing and enter the
Hall of Fame
!
All new characters upon creation now receive a +25% experience buff for 7 days and 2000 additional stat points that will last you for the first 10 resets. Thanks to our
simplified reset system
, the first 49 resets can be done before level 400. The system is dynamic and every few days the level required for a reset will gradually decrease. Now you can do your first reset at level 390!
Server Deus now has a one-off discount on a VIP account - if you have never purchased VIP, then at the first purchase it will cost you 300 web bonuses instead of 500 for 30 days.
Call your friends and do not forget to use the referral reward system. You can get your
referral link
in your account on the website.
When your referral donates bonuses, you and your referral will receive an additional + 10% of the transfer amount, but no more than 500 bonuses per person. You can track the number of bonuses earned from each referral in your
account
in the referrals section.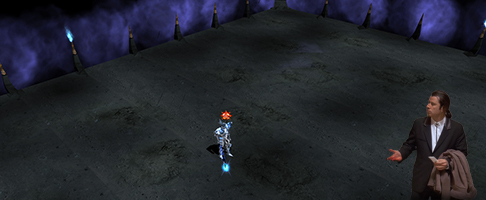 Due to numerous complaints about the running around and the inability to kill players in Chaos Castle, it was decided to remove the holes that created these problems. In the test mode, we will play like this, making sure that there are no more problems, after which we will consider the possibility of adding traps with stuns like on TDM in order to diversify the event.
Added new monsters: Rusthand in Jungle Noria, Ice Warrior in Snowstorm Devias, and Condor Beast in Swamp of Calmness. These mobs, along with the Death Dealer and Lava Demon, now have a random respawn time. Rusthand, Ice Warrior, Death Dealer 8 to 16 hours, Condor Beast 4 to 8 hours, they all drop Condor Shards. Lava Demon respawn is now from 5 to 10 hours, and the drop is changed to Tablet of Power. All listed monsters have global notifications when they are killed. We are starting to accept suggestions on what other existing bosses you would like to see randomly respawn.
The cost of putting a lot up for auction has been reduced from 25 to 10 bonuses, and the minimum selling price has been reduced from 100 to 50 bonuses. We wish you pleasant trading.
---